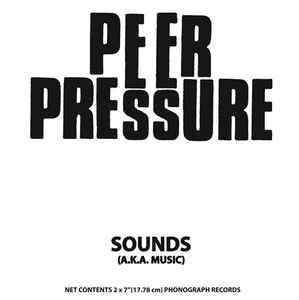 NEW 7"
Rerun Records
2x7"
It was just a couple of guys from Connecticut, not a "proper" band in any sense of the word. One had great chops and songs while the other had lyrics and an endless supply of brilliant ideas. Even if they were never a functioning live band, the two recorded some of the most amazing homemade Punk Rock between 1979-1980.

A four song 7"EP was released on Mother's Day in 1980 (in celebration of "That's Why They Call 'Em Moms") on their own Resistance Records. They intended the EP to look like something from the generic food/household products line. It was issued with appropriately designed labels and no picture sleeve. The band imploded soon after its release. With no live gigs in people's minds, no real distribution and no cover screaming PUNK ROCK; the record and band quickly faded into obscurity.

The obvious hit of the EP ("Sound Of The '80s") was included on a Killed By Death bootleg compilation in the mid '90s, but it wasn't until a medal-worthy search in 1999 by world champion record hounds Ryan Richardson and Jason Litchfield that the band and their story was discovered. That contact also resulted in Ryan issuing the unreleased Eve of Destruction EP as a limited 7" titled 1979/1980.

This deluxe reissue includes remastered versions of both the Sounds of the '80s EP and the 1979/1980 EP. The vinyl is packaged in a heavy, folder style pocket cover and comes with a 5"x7" postcard and a 7"x14" insert including liner notes and other Peer Pressure evidence.