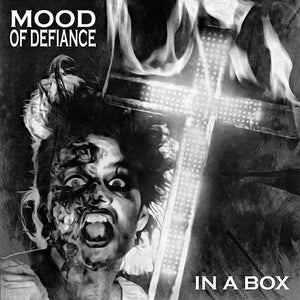 NEW 7"
Water Under the Bridge Records
Mood of Defiance formed in 1981 out of the ashes of short-lived experimental San Pedro synth project, Kindled Imagination, which included Greg Hurley (Slivers) and Richie Wilder (Saccharine Trust, Hari-Kari, Slivers). Founder, Rachel Mason (AKA Screaming Rachel Bitch or Hatha), would roller skate the Hermosa Beach Strand with the likes of SPOT, before even knowing he was Black Flag's chief engineer/producer (at the time). After deciding to start her own band, she once again recruited her neighbor, Richie Wilder on drums and put an ad in the Recycler, where T.A. Black (guitar) and Kevin Ball (bass) replied, which then solidified the band. The name Mood of Defiance was taken from a Time magazine headline, simple as that. MOD is Rachel's first crack at singing which was encouraged by local scenester, Jimmy Mack (AKA Jimmy Smack). Not long after forming, they recorded a demo in March of 1981 at Media Art in Hermosa Beach with SPOT at the helm. This unit played a handful of gigs before Tom and Kevin decided to quit — which not long after, were replaced by Danny Phillips and Gary Kail from the band Anti, who would go on to help write a full-length MOD album with Rachel, called Now, on their own label, New Underground records.

From the depths of the tape vaults, light has been shown upon Mood of Defiance's lost first demo recordings (titled In A Box). Rachel Mason's vocals are an aggressive attack as the band's rhythm chug along behind her in that distinctive early 80's Southern California punk style. These recordings serve not only as a lost document of early So. Cal punk rock, but as a reminder that the independent sound of San Pedro music has a strong history with roots that are still growing and being uncovered to this day.