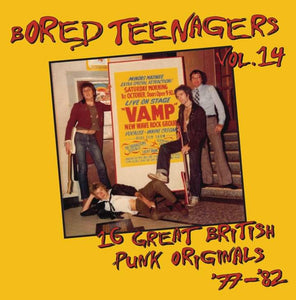 NEW CD
Bin Liner Records
Well here it is, a bit later than we wanted but it's finally out!

This next instalment we have scoured the breadths of the UK and have dug deep and discovered the following PUNK ROCK gems for you and we hope you appreciate them and enjoy what we have discovered.

This CD version contains THIRTEEN extra tracks to the Vinyl version!

so here we go..... The first six tracks are by RAW MATERIAL who were from North Lancashire and in their two year existence they played all over the North of England but sadly they weren't given the same opportunities that the bands from London were given. Here you have six powerful punk gems that were recorded back in 1979. Next four tracks are from STREET SPIRITS, a very obscure band also from up North who actually released one incredibly rare and hard single to find back in 1977. They were formed by two Horton brothers and only played a handful of gigs before they imploded. Sadly this is the only photo of the band that exists! Tracks 11 to 13 are by PSYCHO NORMAL AND HIS STIFF VICTIMS who have become a bit of a myth / folklore around the Brighton area. They formed in early 1977 and played all the haunts and even the legendary Roxy Club. In their short existence, they managed to recorded three tracks which all are features here. They even cut a 7" acetate and had six copies pressed! The keyboard player from this band 'Pete Lyon' ended up playing in The Depressions and then the Vandells. Then it is the turn of RELAPSE with four tracks by this TEEN Punk band from outta High Wycombe. Their singer was only 14 at the time these tracks were recorded. They played a lot of gigs around their area and had a good young strong following. Now we are down to the south coast of the UK with three tracks by Gosport's band CARNAGE. A little bit different in style to the usual 1,2,3,4 punk but once you hear these tracks they become a bit of an earworm, especially 'Kickin' Around'. The next band THE VIOLATORS are quite a well-documented band as their young singer 'Norm Fasey' was very active on the internet and was well liked. Sadly he passed away a few years back so this album is in his honour! Before he passed we went down to visit him and he gave us all the recordings he had. Sadly the master tapes had been lost and only had the surviving tracks on cassette but they still had to be documented even though the quality wasn't the best BUT as they were FULL-ON Punk attitude they had to be used!. So we hope Norm is smiling down on us and finally seeing his bands tracks finally making it onto vinyl after recording them back in 1977/78. R.I.P. Mate... Down to Kent now, we give you Bromley's own Punk Rockers THE VAMP who were led by 'Wayne Cregan'. His life story could be made into a film.... He even was in a few films himself as he had bit parts in a James Bond film as well as a Monty Python film. Several line ups exist of this band and Wayne was the only constant member but these tracks (not the best quality again as they have been salvaged from an old cassette) had to be used as it documents how great they were and even appear as the front cover stars. All of these tracks are from the first line up apart from "3D Vision" which was recorded by a slightly different line up a few years later AND to hear this track it is a Download only as there wasn't enough room on the CD and had to be dropped at the last minute even though it is on the artwork!. The last two penultimate tracks are from CATALIST who came from the outskirts of Glasgow. In their existence they managed to release one scarce single that hardly ever turns up now. More on the poppy side to what we usually release but felt they should be included as the two tracks are so good! So there you have it...

As per usually, the CD Booklet had to be increased to 24 pages that is packed with rare photos and information on all the bands that have been written by them their selves!

We hope you enjoy this next instalment like what we had when we put this all together.... Roll on Volume 15.