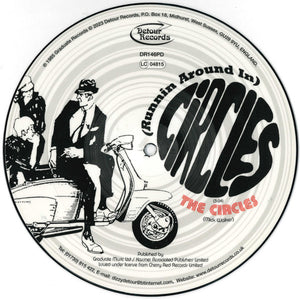 NEW 7"
Detour Records

Well here it is, the third and final Circles Picture Disc. This is the one that everyone wanted as it is the rarest release by this band. The reason for this is that it was recorded back in 1979 but was NEVER released until after the band had split in 1985 and the band didn't even know about its release until years later as Graduate Records just released it and used a B-Side that had previously been on the killer second single "Angry Voices".

So this time, we have re-released it with another track that was recorded at the same time BUT wasn't released until Detour released it on our "Private World" album back in 1999. The B-Side track "Let's Start Again" was one of the earliest tracks to be recorded along with 'Circles', it is not a particular favourite track by the band but thought we wanted to do something a little bit different than using a track had been used before.

Anyway, we hope you like what we have done and be a proud record in your collection!

Once again, only 300 copies pressed and will NOT be re-pressed in this format!