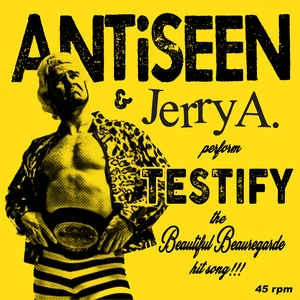 NEW 7"
TKO Records
THAT'S RIGHT- THE TKO 7" IS BACK!!!
After a five year hiatus from the format, TKO is proud to announce of this all new 7" single release! 7" vinyl records are what this record label was founded on, so this is a long overdue return to form.
And naturally, we had to GO BIG!! This beautiful slab of 45 RPM MAYHEM is nothing short of a TOWERING TITANIC TAG-TEAM of OFF-OF-THE-TOP-ROPE PUNK ROCK!!!!
ANTiSEEN, the KINGS OF DESTRUCTO ROCK team up with none other than the KING OF PUNK himself, Mr. JERRY A (POISON IDEA) to deliver a relentless tribute to the BIG TIME WRESTLING HEELS of the 1970s and 80s. Oh the humanity......